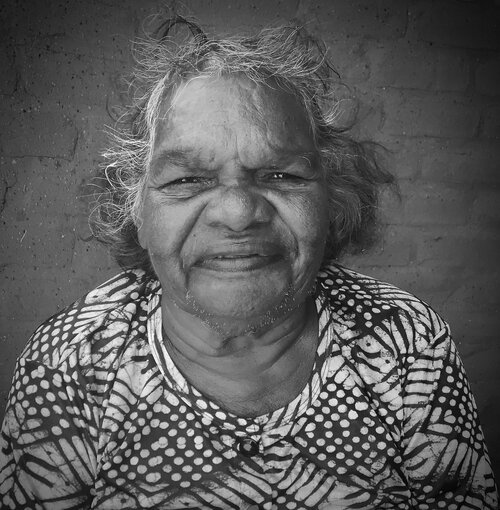 About Edith Imantura Richards
"I was born at Lirunta, in the bush near Docker River. I grew up around Docker River and Warakurna in Western Australia. We used to travel a lot on foot, no cars just camels. My older sister Mary came to Docker River to get me and bring me to Mutitjulu. She used to travel by donkey before she travelled by camel. Sometimes when we had no food we would go to the missions at Areyonga or Hermannsburg.
I remember when that whitefella came from Sydney and built a big airport, put up a big balloon. It's called Giles Weather Station, near Warakurna. I also remember when planes used to land really close to this rock (Ayers Rock/Uluru), the landing strip was right next to it.
A long time ago I started working with Uluru-Kata Tjuta National Park. With my sister, brothers, nephews, nieces, whole family we used to work together in Mutitjulu with the rangers. They've all passed away now, and I'm still here doing this work. I'm a Board member of the National Park, and I also go to Walkatjara to do painting. Palya, that's all." – Edith Imantura Richards, 2018
Edith Imantura Richards is a senior woman from Mutitjulu Community who has acted for a long time as a cultural advisor to the Uluru-Kata Tjuta National Park. She is experienced in many areas of research, land management, tourism and the arts and feels strongly about passing on her extensive traditional knowledge to visitors to her country.