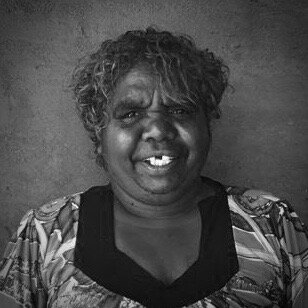 About Christine Brumby
Christine Brumby was born in Areyonga community, growing up in Docker River. She now lives in Mutitjulu community with extended family and near her father's traditional lands.
Coming from a long line of artists, she is also an experienced tour guide and enjoys sharing stories of her country with visitors to Uluru. This includes showing them around the cave paintings and explaining how her family long ago would paint symbols and images from the Tjukurpa (Dreamtime Law) using ochre pigments. She says they used to have only four colours with these natural pigments, but now with acrylic paint the palette is much more vibrant!
Christine enjoys painting the Tjukurpa stories of the region, building on these cave-painting traditions and incorporating her own unique style,
She paints the stories of the Mala people, Kuniya & Liru and the Seven Sisters, passed on to her from her family.