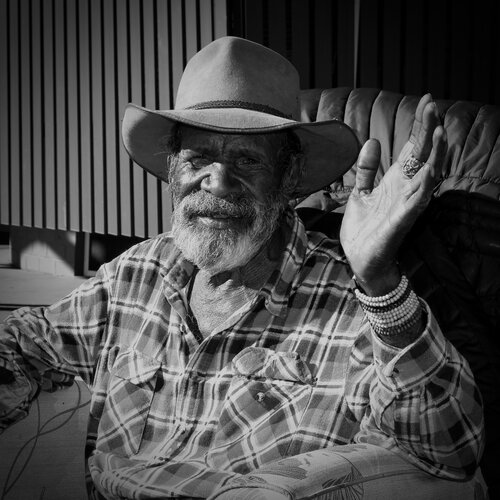 About Cassidy Uluru
"I'm Cassidy Uluru, son of Paddy, 'Keeper of The Rock'. I was born in 1952 at Wallatinna Station, SA spent my childhood in Mimili, then moved as a young man to Indulkana (Iwantja), where I worked long time as a stockman with my brother Reggie. I was strong then, putting up fences and lots of horse riding, all day looking after cattle and sometimes camels.
When my father first time brought us to his country, I was just a boy and a bit scared of Uluru, it was so big. I said to myself it was just a big tali (sand dune), so as not to be frightened. Years later I worked around Uluru as an Eagle Ranger, helping visitors hear our stories, learn things about our culture, our bush tucker (food), find kapi (water) and how to live out on country. All day teaching why my father showed us, proper way.
When after long time we got our country 'handback', I was Chairman of the Mutitjulu Community Council then. There was lots of talking with government people and big city law people but our law won and we got Uluru and the country 'round here back for people.
Now I stay in 'old peoples' (aged care facility) here at Mutitjulu, and paint my stories outside when it's not cold, (I don't like cold) with my brother Reggie."
-Cassidy Uluru 2020